What's up? Welcome to my site!
Hey! My name is Hannah and I am an outgoing Midwesterner with a hunger for all things art, fitness, and fun. I'm currently residing in Chicago, IL (as in actual Chicago, ya know, in the midst of all the skyscrapers) and have hopped all over the Midwest. I am currently a Graphic Designer for Spirit Fitness and currently work remotely, so you will normally find me working at home or a coffee shop in the Loop. I am so fortunate to blend two of my passions: fitness and art!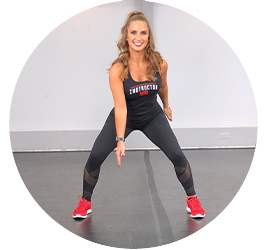 When I'm not at my "desk" job, you'll find me moving and sweating with my inspiring students in my group fitness classes!
I have been a certified group fitness instructor since 2010 and teach tons of classes with LifeStart Wellness Network downtown in the Loop, and with Runn Chicago in West Town. I am also training to run my first marathon, the Chicago Marathon!
When the day is done, you can find me on the floor of my apartment, drawing or painting. I have been an artist for as long as I can remember; drawing toy dinosaurs with my grandma and drawing my family's Christmas card every year. I have a crazy love for wildlife, especially when it comes to recreating it through art. A majority of drawings and paintings depict animals I've held or places I've been in person. Although I may not have as much time to create as I used to as a kid, I still find that same giddy feeling each time I pick up a pencil.
If you're looking for me on the weekends, I'm probably not home. I love exploring, especially if it is somewhere I can go over a weekend. Being native to Chicago, my husband and I do the best we can to take full advantage of the events and happenings around town. And living so close to beautiful Lake Michigan has proven to be an escape for me when I feel trapped in the noisy city.
---
I don't believe in calling the Midwest "boring."
I believe in green smoothies as much as I believe in craft beers.
My mantra is to be the light – so, shine on!
-HP