Here's the thing.
I have don't have a crazy weight loss journey or miracle diet.
I have never done a trendy cleanse
and am not trying to sell you anything
or get you to join my pyramid scheme.
I'm just a girl that loves to motivate people and sweat.
---
Fitness has been such a huge part of my life the in the past 10 years that I now consider it to be a career of mine. I spent several years as a R.I.P.P.E.D. Master Trainer for Chicagoland and continue to teach dozens of classes in the Chicago Loop. I am also certified and held to the high standards of ACE® and AFAA® and hold cycling and yoga sculpt fitness certifications. I believe fitness is for everyBODY and that it is the greatest thing you can do to better yourself.
---
MY STORY
Sure, I was active throughout my high school days – playing volleyball, soccer, and marching band. I thought that between all of the games, practices, and competitions that I was in reasonable shape. The hidden trouble came before those sporting events, where our team "fueled up" on Snickers Marathon bars (oh, hello, a 'nutrition bar' that tasted like candy? Sign me up) or when we ate buckets of spaghetti at team dinners because we needed to "carb up." And when the games were over, we grabbed whatever we could for dinner at the concession stand, which was usually a large soft pretzel and cheese for me.
I started taking a Zumba class at our YMCA in my hometown and was hooked. I'll never forget my first class and how I went online and purchased a Zumba tank top immediately afterward. I became what I never thought I would be: a regular.
I got to know the instructor very well and we became close friends. I continued to take the classes when I was back on college breaks when she reached out to me and suggested that I become certified to teach Zumba at my university. I jumped at the idea and immediately signed up for a training that November in 2010. I will never forget my first class in January of 2011 – it had over 70 students and was so high energy – people were lined up waiting to get in!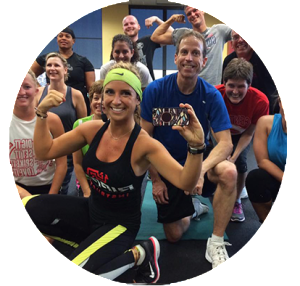 Then, over summer of my 2012, I tried a new class called R.I.P.P.E.D. – a class that was choreographed to the music, but used something I was unfamiliar with – weights. I had never lifted before and never found it to be exciting or inspiring. This class changed all of that. I returned back to school to graduate and begin my first big girl job in Des Moines, but not long before I chose to get certified in R.I.P.P.E.D.!
R.I.P.P.E.D. did not have any root in Des Moines when I became certified, so approached my own gym to see if they were interested in offering it on their schedule. I auditioned and was quickly offered a Tuesday evening time slot. Shortly after, I was asked to teach the classes 3 days a week. Over the months, I began to notice my body strengthening and my students growing stronger and confident (hello, weight training!).
The same challenge happened with my move to Chicago. While finding it extremely difficult to say "See you later" to my amazing Des Moines students, it was time for my new chapter in Chicago. I auditioned with LifeStart Wellness Network, whom places group fitness instructors in corporate offices' gyms throughout Chicago, and was offered 3 time slots immediately, and now teach almost 12 a week.
I am definitely the girl that shows up to happy hours in some sort of fitness instructor gear with my hair in a sweaty bun. It is such a rewarding job and I often have to step back and realize how blessed I am to have found this passion of mine.
---