FUN.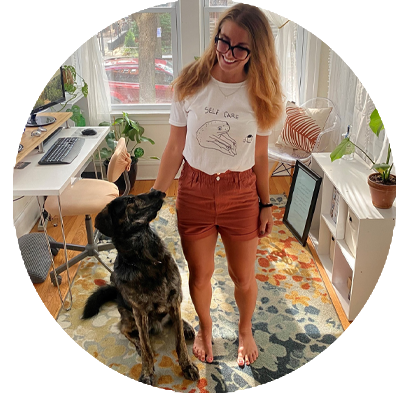 A LITTLE ABOUT THE ARTIST.
I'm currently residing in Chicago, IL (as in actual Chicago,) and have hopped all over the Midwest throughout my life. I am currently the Creative Manager for EōS Fitness and work remotely, so you will normally find me working at home in my sunroom office or a coffee shop in the neighborhood. I am so fortunate to blend two of my passions: fitness and art.
When I'm not at my desk job, you'll find me leading a group fitness class.
I have been a certified group fitness instructor since 2010 and several of classes with LifeStart Wellness Network and LA Fitness, most of which are virtual currently. Before 2020, I'd bike down to the Loop every single day to teach a 8 classes a week, which has been my absolute favorite way of getting to know my city.

At the end of the day, you can find me on the floor, drawing.
I have been an artist for as long as I can remember; drawing toy dinosaurs with my grandma and drawing my family's Christmas card every year. I have an obsession with critters and wildlife, especially when it comes to recreating them through art. Yeah, I'm the one who picks up the poisonous frog or calls a snake "cute." In fact, a majority of my drawings and paintings depict animals I've held or places I've been in person. Although I may not have as much time to create as I used to as a kid, I still find that same giddy feeling each time I pick up a pencil or brush.

If you're looking for me on the weekends, I'm probably at a local brewery.
Because what could be better than supporting someone's lifelong dream while unwinding with a tasty beverage? I love exploring both near and far, especially if it's a new neighborhood or quick trip. And living a block away from the beautiful Lake Michigan beaches have proven to be an escape for me when I feel trapped in the noisy concrete jungle.